Kimberton Hunt Club was well represented at the PA National Horse Show
Nineteen members boarded the bus headed to Harrisburg to cheer on our members and hounds in the show ring on Monday, October 16th, 2017.
Amy Magee, Ashley Spangler & Mary Musheno represented us well in Hunt Teams  and each showed individually in the Under Saddle  and Over Fences classes. The Ladies division brought out over 55 ladies to compete- Yikes! Ashley and Scout pulled through for an 8th in that huge over fences class!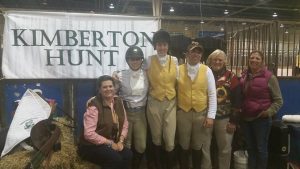 KHC member Steve Sprowls brought his A game to the ring…he rode in the Gentleman's under saddle class. Steve's competition was non other than Olympian Boyd Martin. I believe I heard Boyd inquiring who his stiff competition was on the bay horse….Don't worry Boyd, Steve went easy on ya. It's bad karma to show up an Olympian. Steve's night was complete when he ribboned against Boyd by pulling a 5th in the Gentleman's class.
Video of Hound Parade:
Parade of Hounds 🐶🐶🐶🐴 Pennsylvania National Horse Show

Posted by Kimberton Hunt Club on Monday, October 16, 2017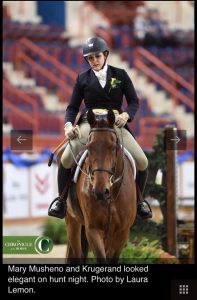 Mary Musheno & Krugerand Over Fences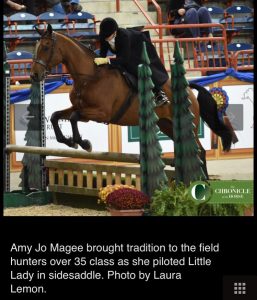 Amy Jo Magee & Little Lady Over Fences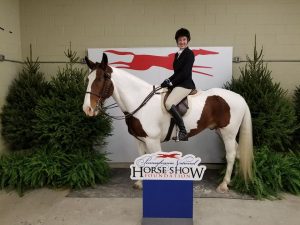 Ashley Spangler & Scout's Honor Over Fences
If you've not liked  Kimberton Hunt Club on Facebook you should!
Follow us on Instagram too!
Thank you Amy, Ashley, Mary, Steve, John and Kathy for representing KHC in the ring and making us proud to call you members! Thank you to Debbie, Sally, Richard, Tom, Jesse, Ed & Barbara Ellmaker for helping get the hounds there and in and out of the ring safely!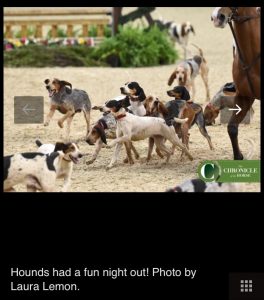 Save
Save