The Kimberton Hunt meets most Wednesdays and Saturdays between mid September and early April. The location varies but hunts are usually held in northern Chester County. We always welcome anyone who would like to "cap" (ride as a guest) with us. Capping is $50 per person and payable when you arrive. Most of our hunts are held over hilly terrain. While your horse does not have to be fast to keep up with the hounds, some conditioning over hills is essential.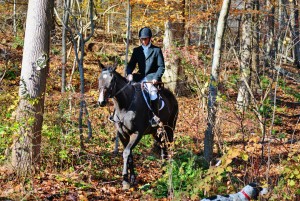 Hunt attire is formal from November to April. In our case formal means a black hunt coat, boots, breeches and stock tie. As the Kimberton Hunt is recognized as a member of the Masters of Foxhounds Association, the staff will wear scarlet coats.  Members and guests are asked to be appropriately attired as well. Protective headgear is mandatory. A hunt cap (with harness), or a riding helmet with black cover is preferred. Hunt caps without chin straps are acceptable. During autumn hunting season (September and October), a tweed or other riding jacket with boots, breeches and helmet or hunt cap may be worn.  If you do not have all the proper gear, please talk it over with the master or hunt secretary before coming out. What is important is that our riders look appropriate,  present a neat appearance and their horses well-behaved.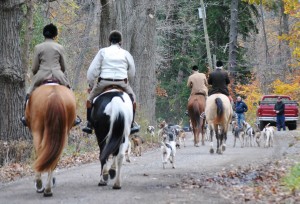 The most important rule however is to have fun. We are known as a friendly group of horse enthusiasts, and everyone is welcome. Since we do not have large jumps and our pace is slower due to the hills and woods, the Kimberton Hunt is ideal for those who are new to the sport. On the other hand our excellent pack of hounds will provide outstanding sport for seasoned foxhunters.
If you are interested in hunting as a guest, please contact the master or hunt secretary.  You can also email the club for details.

Save
Save